Wolterton St Margaret
Wolterton St Margaret
Wolterton St Margaret
Wolterton St Margaret
Wolterton St Margaret
Wolterton St Margaret
Wolterton St Margaret
Wolterton St Margaret
Wolterton St Margaret
Wolterton St Margaret
Wolterton St Margaret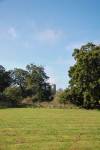 What you need to know about this church
The ruins of St Margarets church are located in the grounds of  Wolterton Park with Wolterton Hall in Norfolk.
The round tower is substantially all that remains of the deserted village of Wolterton which stood to the north of this site. 
* denotes external links that open in a new window
Visiting Wolterton St Margaret
The tower of St Margaret's stands in the Park of Wolterton Hall. Its church was demolished in the mid 18th century, but the tower was left, presumably as an attractive thing to view in the Park. The church had consisted of chancel, nave, south aisle, north vestry as well as the tower, but all was removed, as well as some nearby cottages being re-located elsewhere.
The tower has a shallow facing of predominantly light grey flints, which are rounded, knapped and set fairly neatly in courses, though large patches of this facing have now fallen away. It probably dates from the 15th century, with tower and belfry of one build. The tower has a flat east wall, so was added to an earlier church, and a pointed narrow tower arch formed of late medieval brick. There was an integral staircase, forming a bulge in the flint-work at the junction of the tower and the south part of the west nave wall. The newel post and stairs were formed of late medieval brick. There is a large pointed west window, with its arch made of alternate bricks and flints, but the tracery and jambs have disappeared. Above this is a smaller pointed window, framed all round with red brick. Much of the octagonal belfry has gone, but it sat on a stone string course, and had dressed stone used for its narrow quoins. The inside of the belfry kept to a circular shape. The belfry openings had stone jambs and brick or stone arches, but most of the frames and all the tracery have disappeared. The parapet, which only remains on the east side, had flushwork panels of knapped white flints.
The church was consolidated with Wickmere, another round towered church, in 1737. In 1938 some panels, found in Wolterton Hall, were made up into the pulpit there. These panels, which show William and his wife Agnes, with their four sons and ten daughters, praying for God's mercy, are thought perhaps to have come from this Church.
Conclusion: only the tower is left in a pretty setting