Bartlow St Mary
Bartlow St Mary
Bartlow St Mary
Bartlow St Mary
Bartlow St Mary
Bartlow St Mary
Bartlow St Mary
Bartlow St Mary
Bartlow St Mary
Bartlow St Mary
Bartlow St Mary
Bartlow St Mary
Bartlow St Mary
Bartlow St Mary
Bartlow St Mary
Bartlow St Mary
Bartlow St Mary
Bartlow St Mary
Bartlow St Mary
Bartlow St Mary
Bartlow St Mary
Bartlow St Mary
Bartlow St Mary
Bartlow St Mary
Bartlow St Mary
Bartlow St Mary
Bartlow St Mary
Bartlow St Mary
Bartlow St Mary
Bartlow St Mary
Bartlow St Mary
Bartlow St Mary
Bartlow St Mary
Bartlow St Mary
Bartlow St Mary
Bartlow St Mary
Bartlow St Mary
Bartlow St Mary
Bartlow St Mary
Bartlow St Mary
Bartlow St Mary
Bartlow St Mary
Bartlow St Mary
Bartlow St Mary
Bartlow St Mary
Bartlow St Mary
Bartlow St Mary
Bartlow St Mary
Bartlow St Mary
Bartlow St Mary
Bartlow St Mary
Bartlow St Mary
Bartlow St Mary
Bartlow St Mary
Bartlow St Mary
Bartlow St Mary
Bartlow St Mary
Bartlow St Mary
Bartlow St Mary
Bartlow St Mary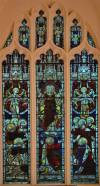 What you need to know about this church
St Marys church is located in Bartlow, a village in Cambridgeshire about 2 miles south-east of Linton.
* denotes external links that open in a new window
Our visit to pretty St Mary's in Bartlow coincided with the hottest October day ever recorded in England. Therefore, the visit to the interior was a welcome cool down. The name of this place derives from "mounds in the birch trees". Still to the east of the church are four Romano-British burial mounds from the 2nd century. There used to be seven of them here, still known as Bartlow Hills. The largest is about 13 metres high and 43 metres in diameter! The tower and nave were built in the late 13th century, though the nave was made higher and wider in the 14th century. The tower has a string course about half way up, and above this there is a step-in, narrowing the tower slightly. Just above this there are two circular openings with quatrefoil openings, to the north and south-west, and possible evidence of three more inside. The four belfry openings are lancet shaped, and the parapet has been renewed with modern bricks. To the south of the tower there was a kind of fillet, made entirely of flint, between the curved tower wall and the straight west nave wall, which might have been the remnant of an earlier 11th century corner of the church. However the angle has now been replaced with dressed stone. The north porch and the windows are 14th century in style, though they have been restored. The east window is 15th century.
Opposite the entrance, via the north door, is a 15th century monochrome wall painting of St Michael weighing souls, with the crowned Blessed Virgin Mary to the east, putting her hand out to help the weight of the good souls, and on the west side, the devil, with large claws and with faces on his knees and elbows, trying to influence the weighing of the baddies. To the east of this, there is the top part of St Christopher, carrying the Christ Child. Near the north doorway is a prominent red dragon, with a background of flowers, part of a lost St George. All these paintings are 15th century, and they were conserved, stabilised and cleaned in 2014. The tower arch is tall and narrow, with some mouldings round the top. The plain 15th century font stands nearby. There are fragments of medieval glass in some of the tracery lights in the nave. In the chancel are more recognisable bits of 14th century glass, including some cross-eyed lions, some heads and some tops of canopies. The altar rails are from the 17th century.
Conclusion: pretty village church with nice wall paintings