Pentlow SS Gregory & Georg
Pentlow St Gregory & St George
Pentlow St Gregory & St George
Pentlow St Gregory & St George
Pentlow St Gregory & St George
Pentlow St Gregory & St George
Pentlow St Gregory & St George
Pentlow St Gregory & St George
Pentlow St Gregory & St George
Pentlow St Gregory & St George
Pentlow St Gregory & St George
Pentlow St Gregory & St George
Pentlow St Gregory & St George
Pentlow St Gregory & St George
Pentlow St Gregory & St George
Pentlow St Gregory & St George
Pentlow St Gregory & St George
Pentlow St Gregory & St George
Pentlow St Gregory & St George
Pentlow St Gregory & St George
Pentlow St Gregory & St George
Pentlow St Gregory & St George
Pentlow St Gregory & St George
Pentlow St Gregory & St George
Pentlow St Gregory & St George
Pentlow St Gregory & St George
Pentlow St Gregory & St George
Pentlow St Gregory & St George
Pentlow St Gregory & St George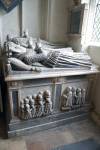 What you need to know about this church
St Gregory's and St George's church is located in Pentlow, an Essex village about 4 miles north-west of Sudbury, and right on the border to Suffolk.
* denotes external links that open in a new window
Visiting Pentlow SS Gregory & George
The church of St Gregory and St George in Pentlow is little bit difficult to find, as it is rather difficult to spot from the road, especially when the trees are green. But you have come the right way, and the small path indeed leads to it. As the round tower here covers part of the 12th century west doorway to the nave, the tower must be later. Both nave doors are 13th century, possibly inserted to replace the west door, it seems likely that the tower is 13th century. This tower has a later ground floor west window and two other rectangular stone-framed slit ones at that level, then three similar ones in the next stage up. The belfry openings have Y tracery, and there is a battlemented parapet. The west quoins of the nave are built of flint, so a 12th century date is likely. The chancel has an apsidal east end, as was usual in the 12th century, and there is a north chancel chapel, with stepped gables east and west. The south porch was added in the 19th century.
From the nave side, the tower arch has a plain 12th century round arch, but on the west side a later more ornate arch has been added, still from 12th century, with roll mouldings and interlace carvings on the capitals. It has the stone head of a muzzled bear set above it. The 12th century square font stands by the north doorway. It has shafts at the corners, with scalloped capitals, and three sides have intricate interlaced foliage carvings. The lower part of the font cover is 15th century with seven sides, three of which form a door, and there is a later crown of arches and a crocketted finial to the top half. In the chancel the boarded roof is domed above the eastern apse. North of the altar is a tomb chest for Edmund Felton †1542 and his wife Frances.  The north doorway leads into the Kempe Chapel, which was a chantry chapel circa 1500, taken over by the Kempe Family circa 1600 for their memorials. It has a fine 16th century plastered ceiling. The central space is taken up by a large memorial for Judge George Kempe †1606, his son John †1609 and his wife Elinor, three life sized effigies lying on a tomb chest. The front panels of the chest have the kneeling figures of 10 daughters and four sons.
Conclusion: pretty village church whith a rare old font