Great Hautbois St Mary
Great Hautbois St Mary
Great Hautbois St Mary
Great Hautbois St Mary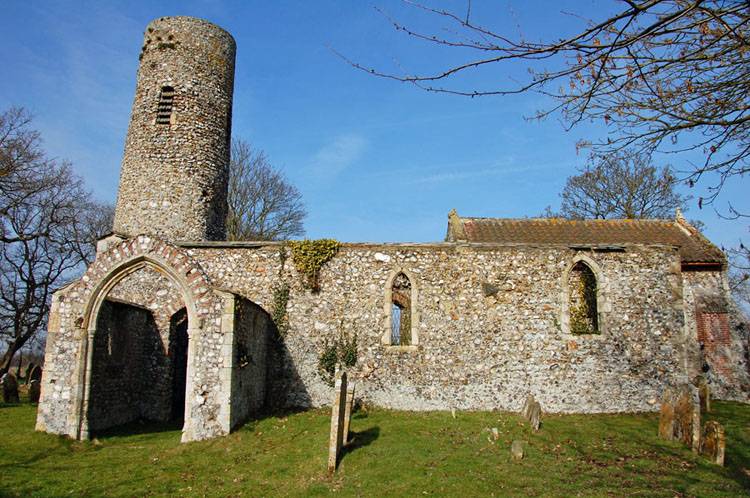 Great Hautbois St Mary
Great Hautbois St Mary
Great Hautbois St Mary
Great Hautbois St Mary
Great Hautbois St Mary
Great Hautbois St Mary
Great Hautbois St Mary
Great Hautbois St Mary
Great Hautbois St Mary
Great Hautbois St Mary
Great Hautbois St Mary
Great Hautbois St Mary
Great Hautbois St Mary
Great Hautbois St Mary
Great Hautbois St Mary
Great Hautbois St Mary
Great Hautbois St Mary
Great Hautbois St Mary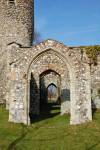 What you need to know about this church
St Mary's is a ruined church located in Great Hautbois, just to the north of the Broads village of Coltishall in Norfolk.
It is also known as St Theobald. There is a path with a kissing gate leading to these ruins from the Coltishall to Lamas road.
* denotes external links that open in a new window
Visiting Great Hautbois St Mary
The ruins of St Mary's in Great Hautbois are among the best preserved ruined Round Tower Churches in Norfolk. Therefore, there is still a lot to see, and it is still easily recognizable as a church ruin.
Although now situated a long way from anywhere, down a track from a country road, this church stood near a castle, built 1313, and a Hospital and Chapel founded 1235 for the reception of travellers and poor people. The new church of the Holy Trinity was built 400 metres to the east in 1864 in the village, and this one was left standing, but without a nave roof. The church was first built in the 9th century, with ferricrete quoins, then the tower was added perhaps a hundred years later. It still stands, very slender and circular for its full height of about 45 feet, with four early belfry openings, framed with flints and with non-radial arches also made of flints. There are similar openings lower down. From the nave it can be seen that the present modest doorway into the tower infills a larger arch, and above that arch is another, formed of Roman tiles, which might have been the top of the first tower arch, or it might have been a window above the lower arch.
In the 13th century the chancel was extended eastwards, and a south chapel was added to house an image of St Theobald of Provins (Brie). He was a hermit, who went on pilgrimages, to Compostela in Spain, Rome and other places in Italy, and eventually became a Camaldolese monk. He died in 1066. His image here attracted pilgrims, as it was supposed to have miraculous powers.
The walls of the nave and the 15th century south porch still stand without a roof or windows, but the chancel arch was blocked with a flint wall and a small doorway in 1864, and the chancel became a mortuary chapel. The south aisle was built in the 14th century, possibly by extending the south chapel westwards, perhaps to accommodate the numbers of visiting pilgrims. Two arches separated it from the nave, which were later repaired with a brick inner arch in the 18th century.
The chancel is still roofed and with some windows in place, but it is now empty. The exceptional Norman font, found buried in 1805, is now in the 19th century Holy Trinity Church.
Conclusion: interesting ruined church, freely accessible with still plenty to see