Thorpe Parva
Thorpe Parva
Thorpe Parva
Thorpe Parva
Thorpe Parva
Thorpe Parva
Thorpe Parva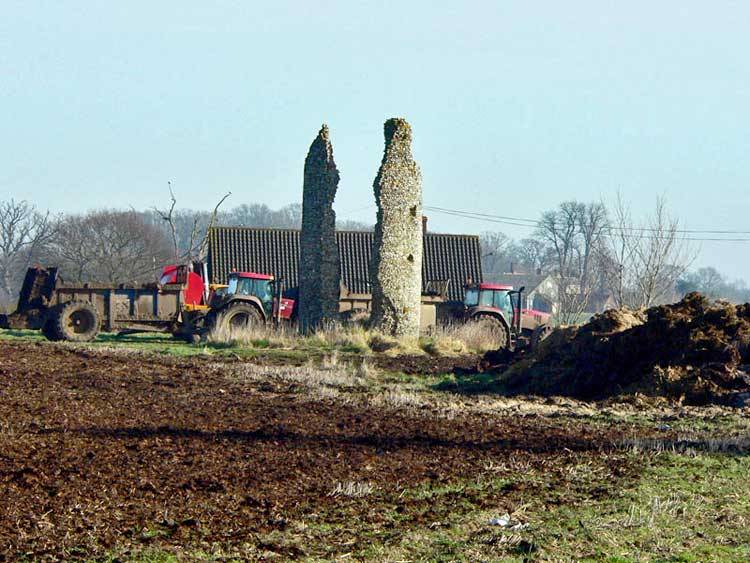 Thorpe Parva
What you need to know about this church
The ruins of this church are located in Thorpe Parva in Norfolk, just to the north of the A143, and to the east of Scole.
The Hall and the tower of the church are the only surviving buildings of the deserted village.
* denotes external links that open in a new window
Less than half of the round tower of the former church of Thorpe Parva still stands in the middle of a field, with its two parts reaching to the sky, the belfry and the eastern half being completely missing. The west side has a wide split down it. The flint work is reasonably well coursed, mostly whole flints, and there are brick-lined put-log holes (for the horizontal scaffolding poles). The tower of this deserted village only survived by being converted into a dove-cote. This may account for the round holes on the north and south faces.
The church was demolished about 1540. In 1602 it was described: "The church ther ys utterly ruinated about three skore years since, or thereabouts. Many of the stones thereof were taken and carried away by on Henry ffuller, then servant to Mr Doily, Esq. then proprietary there, & the wholl church was so ruinated by the said Mr Doily. The steeple (tower) of this present ys converted to a dovehouse". Remains of the west window frame can be seen, the jamb made of brick in the south part. There was a pointed west belfry opening in place in a drawing done in 1771, but it has now gone. Brick-lined slit windows were once visible in the second stage.
Because of the brickwork within the fabric, the tower was probably built in the 14th century. It stood at the southern edge of a deserted village, with only Thorpe Hall remaining, less than half a mile to the north.
Conclusion: easy accessible ruins with few remains