Brampton St Peter
Brampton St Peter
Brampton St Peter
Brampton St Peter
Brampton St Peter
Brampton St Peter
Brampton St Peter
Brampton St Peter
Brampton St Peter
Brampton St Peter
Brampton St Peter
Brampton St Peter
Brampton St Peter
Brampton St Peter
Brampton St Peter
Brampton St Peter
Brampton St Peter
Brampton St Peter
Brampton St Peter
Brampton St Peter
Brampton St Peter
Brampton St Peter
Brampton St Peter
Brampton St Peter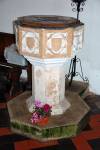 What you need to know about this church
St Peter's church is located in the small rural village of Brampton, about 3 miles south-east of Aylsham.
* denotes external links that open in a new window
Visiting Brampton St Peter
I am not very happy with the quality and quantity of the photos of St Peter's in Brampton, meaning we have to revisit this church. It was locked on my first visit, but a keyholder was shown. As this visit was more than ten years ago, I am not sure about the current state; the benefice website and acny.org do not state anything about it. It sits in a very rural position above the River Bure, and the village of Brampton is really small. But it is nevertheless close to the market town of Aylsham, and the Bure Valley Railway passes it about 300 yards or so to the west.
There are two bands of brown ferricrete to be seen in the flint tower at about 11 feet from the ground. This lower part of the tower could be 12/13th century, with a pointed tower arch, though higher up the circular part appears later, possibly rebuilt to strengthen it before the new belfry was added. Then in the 15th century a red brick octagonal belfry was added with dressed stone quoins. The tower and chancel are off-centre to the north of the church, as the earlier nave south wall was moved further south in the 14th century. The single pitched roof covers the whole width, which makes the ridge meet the tower's south-east face rather than centrally. There was formerly a chapel at the south-west end of the chancel, indicated by blocked arches, with its site now partially covered by the 19th century vestry. The north-west nave quoin includes some Roman tiles, no doubt re-used from the nearby Roman site (close to the railway bridge).
Inside it is clear that the chancel is actually longer than the nave, (36 feet as opposed to 26 feet)! In the north-east corner of the nave there still remain the stairs, which provided access to the Rood loft above the no longer present Rood screen.
There are several brass memorials in the chancel. Some inscriptions and a brass showing the three figures of John Brampton †1535 in armour and his two wives, Thomaseyne and Anne, are mounted on the wall. By the altar, in the floor in the south corner, is one for Robert Brampton †1468 and his wife. They are portrayed in their shrouds (wrapped in grave clothes). Above their heads are two scrolls, with between them the exquisite figure of the crowned Blessed Virgin Mary holding the Baby Jesus. Nearer the rails is a brass for Edward Brampton, †1622, as a civilian, with his wife Jone, both with ruffs round their necks. It also has the Brampton shield of a saltire cross with four  cross-crosslets between its arms.
Conclusion: nice rural church probably difficult to get in